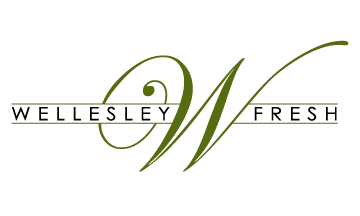 We know you are interested in good health and we are too. Your dining centers offer daily healthy features and lighter alternatives such as fresh-cut fruits and vegetables, fresh fruit yogurt parfaits, salads and much more. Providing wellness selections is simply a part of our commitment.
Guide For Students with Dietary Restrictions
Gluten Disclaimer
The Gluten Sensitive (GS) label indicates the food item contains no major gluten ingredients such as wheat, barley, or rye. Incidental gluten may still be present in GS labeled foods.
Food Allergy Disclaimer
AVI Foodsystems at Wellesley College makes every attempt to identify ingredients that may cause allergic reactions for those with food allergies. We label items with possible allergen-containing ingredients and every effort is made to instruct our food production staff on the severity of food allergies; however, there is always a risk of contamination. There is also a possibility that manufacturers of the commercial foods we use could change the formulation or substitute at any time, without notice. As well, any self-service area does not have control over cross contamination. Furthermore, we cannot guarantee the absence of cross contamination with our baked goods. Customers concerned with food allergies need to be aware of this risk. Students with food allergies are encouraged to contact our Registered Dietitian or Health Services for additional information and/or support.
DIETARY RESTRICTION PROGRAM AT WELLESLEY DINING HALLS
Health & Wellness
Live Healthy. Eat Healthy. Be Healthy.
Allergen identifiers on daily menus
We adhere to ServSafe practices to avoid cross-contamination.
If you have special dietary needs, food allergies or religious dietary requirements we encourage you to arrange a private consultation with our on-campus Dietitian.
What to do if you have a food allergy
1. Recommend student contact Dining Services Dietitian prior to arrival on campus.
2. The eight major food allergens are labeled in campus dining: tree nuts, peanuts, fish, shellfish, dairy, eggs, soy, and wheat. For other food allergies not listed here, please report your food allergy to Health Services with medical documentation, ideally in the first 2 weeks of the semester.
3. Student meets with the Dining Services Dietitian to discuss all allergic foods and appropriate dining options.
4. All students with Celiac Disease or gluten related allergies must meet with the dietitian and the Chef Manager in the dining facilities most frequently visited.
5. Student is responsible for communicating any concerns or questions with the Chef Managers or dining supervisors in the dining facilities.
Contact the Dining Services Dietitian at 781.283.3933. Should a student need further assistance regarding food allergy needs, contact Jim Wice, Director of Disability Services at jwice@wellesley.edu or Dr. Vanessa Britto, Director of Health Services at vbritto@wellesley.edu. The requested health information will be kept on file by Health Services and the Office of Disability Services.
Medical Disclaimer
The contents of this Website, such as text, graphics, images, and other materials are for informational purposes only. The content is not to be substituted for professional medical advice, diagnosis, or treatment. Always seek the advice of your physician or other qualified heath provider with any questions you may have regarding a medical condition. You are encouraged to confirm all health and nutrition-related information contained herein with other sources. Never disregard professional medical advice or delay in seeking it because of something you have read on this website.